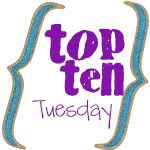 Sometimes I struggle with my lists to include for
Top Ten {Tuesday}
. I never try and force a post, because honestly, that usually means they are lame and who is going to want to read a lame post anyways? The
Top Ten {Tuesday}
lists usually give me a theme to work off of ... if I am creative enough to think up one.
This week, I had that theme. I thought about it yesterday in the shower and while I was drying my hair. But then I forgot to actually build out on the theme. So I am left with nothing for today. Except my thoughts. And well, wouldn't you know it, my thoughts are all over the place these days. Here's ten of them (oh how convenient, a list of ten! :P )
1. Halloween.
It's here! We are all set with our costumes, and if we don't win at least some kudos from the contest people at our various events, well then, I don't want to know who actually wins, because these are going to be AWESOME.
2. Spring-Cleaning ... in the Fall.
Sunday involved spring-cleaning the condo, and putting everything in its place. It feels so nice to relax, not having to worry about the clutter that was slowly building up around me. And yes, I am aware that makes me slightly OCD.
3. Eww.
Speaking of clutter and OCD, last night we watched
Hoarders
for the first time, and OMG these people are RIDICULOUS. They are seriously ill in the head, living in homes where you can't see the carpet or walls because it's covered in 7-feet piles of STUFF. The one last night also involved a woman with 36 cats in there with her. 23 of them were living. And she saw nothing wrong in her actions. GROSS.
4. Feeling Blah and Working Out.
I really need to amp up my weekly workouts. I tell this to myself all the time, but I still don't get in the 3-4 workouts a week that I know make me feel my personal best. Today I am feeling the changing weather patterns more than normal, and while I really would love to crash on the couch later, I know a spin on the elliptical will do this body and mind good.
5. New Year's.
We booked our flights (no driving, hooray!) to NJ/NYC for the holidays. Except that the way the holidays fall this year, we are coming home on NYE instead of January 2 or 3. I have only spent one NYE in Atlanta in my adult life. What is going on in town that would be fun/affordable/easy to do?
Side note: As Grandma Joan used to say, "New Year's is for amateurs." I do not need a $200 shindig to make my night/year complete.
6. I love my new boots.
I wore
both
pair
over the weekend and am continuously planning outfits to go with them so that I can wear them as much as possible :)
7. I have a Starbucks addiction.
Mostly grande nonfat chai, but sometimes grande nonfat pumpkin spice with no whip. Can someone help?
8. Rules of the Road.
People that block the box (aka block the intersection after the light turns, for you non-NYC friends) really, really REALLY irritate me. As do people who try to cut in at the last second to the turn lane, like they own it. (This is why I try and take MARTA. The rage comes out otherwise!)
Image credit here.
9. New 'Dos.
I have a haircut on Saturday and am doing away with the straight bangs after 10 good months. I have enjoyed them but am feeling the itch to trade them out. Perhaps no bangs at all? TBD.
10. Food Fights.
Shopping at Publix makes me happy. Shopping at
Disco Kroger
makes me stressed out. Publix wins. Plus I feel more yuppie shopping there, pretending like I have all sorts of money. Ugh, I have a problem.
What's something that's been on your mind this week?
As you can see from my list, seriousness of thought does not count :P