I LOVE exploring and finding new blogs. That's why I had asked some of you recently to name your favorites. (Asking again now -- comment today with your favorite must-read sites. I will post that this week. Promise!) On a new site, I just can't help but click through and read the most recent few postings. Already this morning, I have found two more that I have added to my Reader.
I recently discovered
Oh Amanda
-- she is a local mom of two here in GA, and I stumbled across her through another mom's blog that I also follow. Since I love checking out other Atlanta friends, I explored a bit and found out that she does this fun thing each week called
"Top Ten Tuesday."
I am a list-lover, so I bookmarked this one immediately to use for today, knowing that it'd be perfect for a little post-vacation fun :)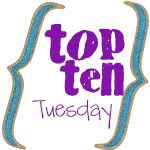 According to Amanda,
Top Ten Tuesday
can be any list of ten things. Anything. Well, that's cool! Ok, today, mine is the
Top Ten Things I Love About Summer in Atlanta.
1. You can hang out poolside after work and still get some sun, since it stays light here almost an hour longer than other Eastern Time Zone cities -- we are almost on Central Time!
2. Any single patio in town is a perfect evening destination or place to hang out on the weekends. Check out
my list from the Fall
for some of my favorites.
3. You can catch a Braves Game for only $8 and still get a good view with a fun crowd in the Upper Reserved Deck.
Two-for-One Tuesdays
is a great deal, and don't forget about Friday Night Fireworks! The Upper Deck on the 1st base line gives you the best head-on view of the show.
4. Every weekend has something going on for cheap and/or free in town. This weekend --
Virginia Highlands SummerFest!
I will be there, will you?
5. Eating lunch outside becomes tres chic. If you are downtown,
Music @ Noon
runs April through October on Tuesdays and Thursdays. Broad Street also features live music entertainment on Fridays.
6. Less than 100 days until
Game Day
? Yes, please.
7. Summer clearances starts ridiculously early. Keep your eyes peeled at Target and other stores for them to start shifting to Back to School in late June. Seriously. Wait and stock up on extra summer items like beach towels and picnic supplies when they go on deep discount.
8. Outdoor movies are all the rage.
Atlantic Station
and
Screen on the Green
are two of the more famous ones, but there are others in the suburb areas and smaller parks, too.
9. Speaking of outdoor things, the Atlanta Symphony Orchestra has a
Summer Series
too, similar to Chastain. I really, really, really want to go see the Planet Earth or Disney Shows. Any takers??
10. White shorts. White pants. Seersucker. I have missed you all, and it's high time that Memorial Day arrived so that I can wear you again :)
What is something else that you love about summertime in Atlanta? Add yours to the comments -- and your must-read blogs, too!